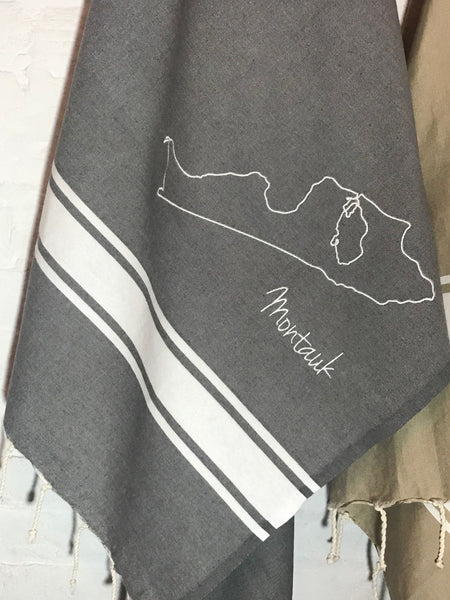 Montauk Embroidered Bath & Beach Foutas
Borderline Jewelry is excited to announce its first foray into the Home category with a beautiful line of artisan Beach & Bath Foutas, hand loomed in Tunisia. The incredibly soft, 100% cotton towels can be used on the beach or in your bathroom, thrown on the table or over a sofa, even worn as a scarf or sarong. These 40" x 80" handcrafted beauties are super lightweight, highly absorbent and perfect for tossing in your travel bag. They not only dry way faster than a traditional terry towel, but the more you use them, the softer and more absorbent they become.
Our fabulous foutas are available in a Flat weave with the intricate outline of Montauk, NY. They make the perfect addition to an East End home or while surfing or lying on Ditch Pains Beach. Plus they're a great gift for your Hamptons' host.
Interested in a border not yet available or shown? Check out our blog to view our latest launches or email us and let us know which border(s) you're interested in. 
If you prefer a fouta without embroidery, click here.
Washing Instructions: You can machine wash your fouta using cold water. While machine drying won't damage your fouta, we prefer hanging our foutas out to dry.